We are a small family run Boarding cattery just 6 miles from Edinburgh City Center. We are close to the Edinburgh City By-pass and near the A68, A1, and A7 roads, easily found on a main road with good parking, but surrounded by countryside. We are always delighted to meet with you to discuss your cats needs.
We offer traditional purpose built facilities for family cats whilest there owners are away.

We know that some cats like to be outdoors where they make their own decisions as to their comings and goings, for them we offer fully heated cabins (with heat pads or beds),
and access into their own secure spacious run.

Many cats are flat or house cats which dont go out ,and for them we have indoor apartments which are spacious, heated, have chairs to sit on, music all day and have a home style appearence,but no access to outdoors.

Each cat is an individual to us and we welcome all vaccinated cats from 14 weeks onwards, each of which will receive our loving devoted care. Cats on special diets are welcome. Only fully vaccinated, yearly boostered cats are welcome here, and all males must have been neutered, if over 6 months old.
Top quality diets only are fed here. You may bring your own food to be fed as per your instructions.

As this is our family home we limit our hours to the following: 9-1 Mornings and 5-6pm Evenings.Monday-Saturday, and we always close on a Sunday. Viewing by appointment within these times.

VET ON CALL 24hrs..All cats fully Insured during their stay
this is included in the price.
(Below: Indoor single cat apartment. Full Central heating,
music on all day, quiet, fully walk-in units, ideal for old or shy cats.
( Heated outdoor cabin and run for single cat use)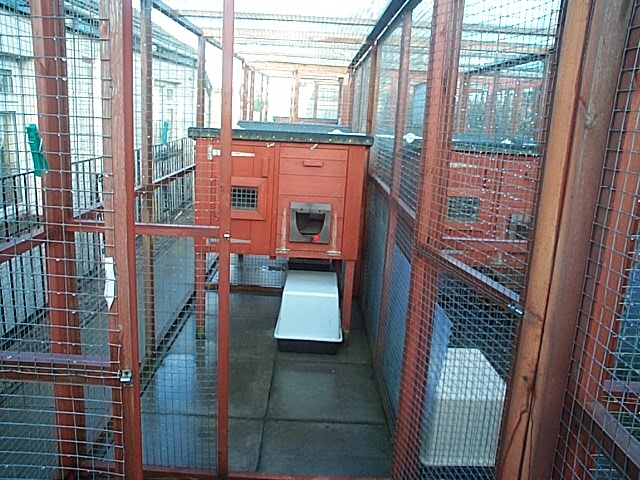 (Heated 2 cat cabin..we also have cabins for up to 4 cats sharing. Only cats from the same home may share)