DALKEITH, MIDLOTHIAN, SCOTLAND

TEL: 0131 660 4063
email us: eve.smail@zoom.co.uk
We are small breeders living near Edinburgh, Scotland, and have been breeding quality family companion West Highland Terriers for 13 years. Our dogs live in a clean purpose built extension of our home and have free access to fresh air and excersise. Our puppies are home reared with lots of love and attention and are superbly reared, paper toilet trained, wormed and Fully Insured with "PET PLAN" when they go off to there new owners. WE DO NOT SELL OUR PUPPIES FOR SHOWING OR BREEDING AS WE FEEL THEY SHOULD NOT HAVE TO EARN A LIVING. We are pleased to EXPORT our puppies at a suitable age, but do not export to countries which have a bad track record in animal welfare.

We are always happy to talk to you about anything in connection with Westies and look forward to hearing from you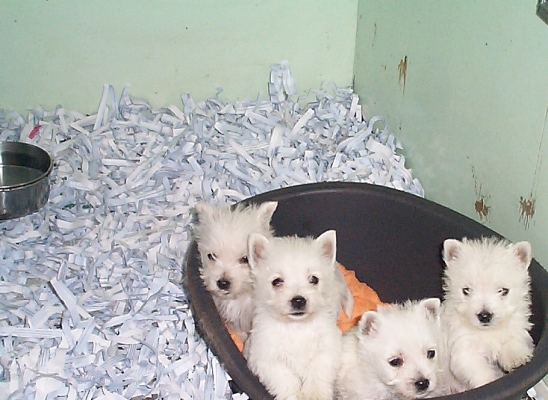 Here are some of our babies at seven weeks